About Saoud Retirement Planning, LLC
We at Saoud Retirement Planning, LLC work with people of all ages.
We believe in the GREEN line.
Take a look at the chart below and ask yourself,
"Where would I rather have my money?"
We think that most people would say,
"I want my money in the GREEN line!"
"Click on Graph Below for Full PDF Version"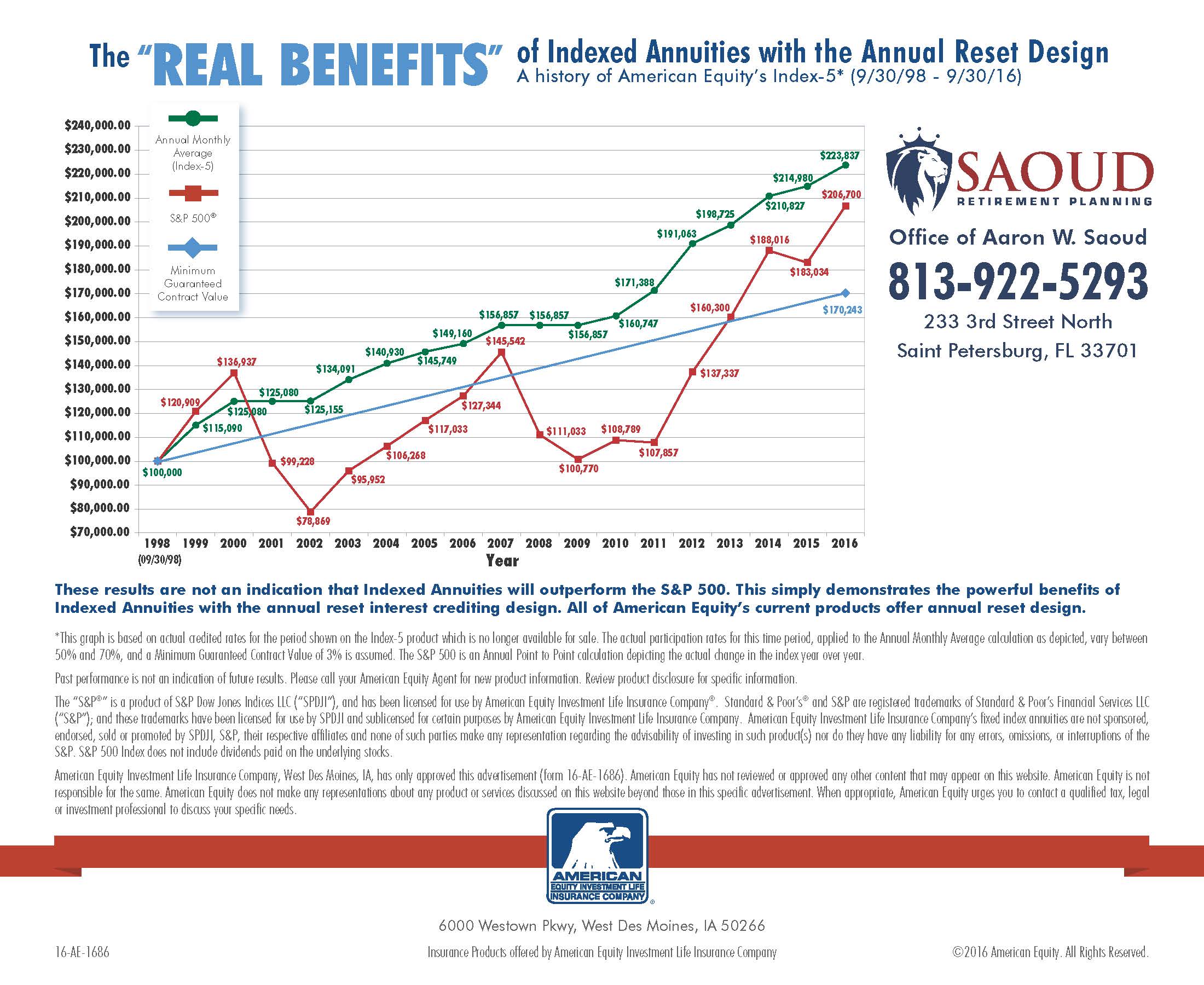 American Equity Investment Life Insurance Company ®, West Des Moines, IA, has only approved the above advertisement. American Equity has not reviewed or approved any other content that may appear on this website. American Equity is not responsible for same. American Equity does not make any representations about any product or services discussed on this website beyond those in this specific advertisement.
Saoud Retirement Planning is a family owned business owned and operated by Bill Saoud and Aaron Saoud. Originally started in 1992 in Sterling Heights, Michigan, Saoud Retirement has expanded to include locations in Shelby, Michigan; Saint Petersburg, FL; Tampa, FL; Lakeland, FL; and Celebration, FL.
Saoud Retirement offers financial solutions for its members who are planning for the future. What does planning for the future entail? It includes having a sound financial plan.
At Saoud Retirement, we understand planning for the future can sometimes feel overwhelming or difficult, and tackling these issues are sometimes not at the for-front of your priorities. We make it easier to answer on those questions and devise a plan that will work, simply and thoroughly.
Our team consists of top insurance agents and staff dedicated to staying on top of the latest, most strategic plans for our member clients. With multiple years of combined financial experience among our team members, Saoud Retirement is built to tackle the toughest questions, and find the perfect solution for our client members.
Our members are treated like family! To us, this means going above and beyond the paperwork, investing, and document preparation. For example, our members are invited to come to each and every dinner seminar and workshop we put on; we hand out a pumpkin pie on Thanksgiving; and we have a fantastic Christmas party where we give out a scholarship to a child of one of our members. Why do we do this? Because our Christian faith has always taught us that we must give back as much as we can, and we understand our business only exists because of each and every person we are able to help.
---
(813) 922-5293
Visiting Michigan? Click Here For Information
on Our Michigan Office
---
EDUCATIONAL SEMINARS
Strategies to feel good about preparing for retirement
Strategies that can help rebuild your financial needs
Strategies in challenging times
Strategies to help achieve financial goals
Strategies to help achieve your long-term financial goals
Alternative products in challenging times
Feel good about your retirement strategies
Feel confident about your retirement savings strategies
How you can get income that you won't outlive*
Information about IRA's and tax deferral characteristics **
Things to think about that may be more appropriate for your financial needs
How our clients have kept their money safe from market declines
Options that let you avoid taxes on IRA distributions**
Products that keep your principal safe from market declines*
*Guarantees are backed by the financial strength and claims paying ability of the issuing insurance company. ** We do not provide specific legal or tax advice, nor promote, market or recommend any tax plan or arrangement. Consult a tax/legal professional for guidance with your individual situation
If just one of these items are a concern you need to call us NOW at
(813) 922-5293.